Happy B'day MASS! A Reversal of Fortunes. ( Lust and Love Royal Style.)
By:

Proserpina

, 08:24 PM GMT on Januar 14, 2012

+

3
JUANA LA LOCA, Queen of Spain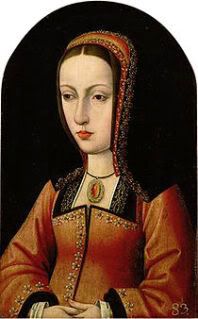 Historical women of note have always fascinated me especially the ones from centuries past when most women were basically non-entities. Men ruled the world, and men were the inventors, travelers, writers, etc. Still now and then a few women equaled or out-shined the men in fields other than the role of motherhood. In past blogs I have featured a few of these exceptional women such as the first female doctor whose name was Trotula; the intrepid Norman Queen Adelasia del Vasto; the warrior Boudica, queen of the British Iceni tribe.

I recently read a historical fiction titled "The Last Queen" by C.W. Gortner. The protagonist is Juana, queen of Castilla, daughter of the Catholic Kings Fernando and Isabel, and wife of Philip the Handsome. She is also known as Juana la Loca, The Mad Joanna. Juana is the next featured historical woman in my series.

Juana I de Castilla was born November 6, 1479 in Toledo, Spain. She was given a stellar education for a female of those times. She learned religion, the art of civility, how to be well-mannered, the arts such as music and dance, how to be a proper 'lady' rider, languages such as French and Latin as well as other romance languages spoken in various areas of the Iberian Peninsula.

Juana was totally dominated by her parents. All of the people who served Juana were meticulously chosen by the parents, while at the same time her brother Juan and future King, ruled his home and territorial possessions from a very young age.
Royal children of those times were just pawns to be used by the parents to solidify political and strategic alliances. Juana was no exception.

Fernando and Isabel desired an alliance with the German Emperor Maximilian I of Habsburg, and betrothed Juana to his son Philip, known as Philip the Handsome. At the same time the future king of Spain Juan was betrothed to Maximilian's daughter Margarita of Austria. The alliance would strengthen the mutual fight against the French who were threatening both Spain and the Germanic rulers. Juana was only 16 years old.




Juana had no choice but to leave Spain and travel to Flanders (today Belgium) home of her future husband. Once in Flanders she would be married to Philip. She left with 19 galleons, many caravels, her extensive possessions in jewels, and 3,500 men. Unfortunately one of the ships that carried 700 men and her possessions sunk leaving her with only the clothes she was wearing.

Many weeks later Juana finally reached Flanders. To her dismay her husband to be did not meet her, he was away hunting. Eventually Philip returned from his hunting trip and went to meet his future bride. It was lust at first sight! She was a real beauty and Philip did not miss this fact. She thought that he too was a grand specimen of manhood. He had golden hair that fell to his shoulders, prominent jaw, aquiline nose, blue eyes, and unblemished skin. Philip was not much older than Juana and both were ruled by their hormones.




The urge to mate was strong for both of them but royal couples had to follow the traditional rules. To circumvent the rules Philip decided that they would be married immediately and his adviser Archbishop Besancon obliged with a marriage on the spot! The formal one would follow as prescribed. The 'marriage' allowed the young couple to indulge in the conjugal rights. Yes, it was against traditional rules but legal.

Juana had resigned herself to the fate of most royal marriages, tolerate him at best and disdain him at worst. She had anticipated a marriage without passion, just an alliance of state for the good of Spain, and of course, to provide a passel of children to be bartered in a few years. Yet she found instant lust and love!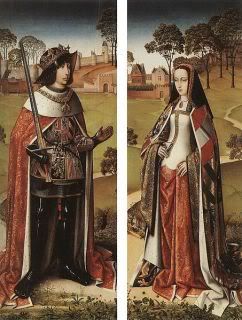 Would the lusty young love last?

The idyllic period was short lived. She soon found out that even though she was enamored of her husband and would always be faithful to him, he had no intention of being faithful to her. It was not a matter of being a bad husband but it was what men did in the 16th century, especially royal men. Most women of the time understood and accepted the situation but not Juana.

She felt betrayed, humiliated, and very angry. Her jealousy was intense and it became increasingly problematic for all concerned. She began to confront Philip's lovers, verbally and physically. Apparently she even grabbed the hair of one of the 'ladies' and proceeded to cut it off! This was a grave mistake on her part as she gave Philip and other powerful men the means on which to base their calculated accusations that she was insane. At the same time Juana began to display her willingness to suffer for what she believed was the correct path for herself and her beloved Spain.

Philip's lack of faithfulness was not the only sad discovery that she made, she also became aware that there were powerful people around her who would manipulate her and her loyal personal assistants. Archbishop Besancon as adviser to the malleable Philip, was a mastermind of scheming, intrigue, and deception. She knew that she needed to be on her guard when dealing with this man, and the seed of future retaliation was sown in her young heart.

Despite the suspicions, the unfaithfulness, the manipulations, Philip and Juana continued their sexual encounters which resulted in six pregnancies. The first of the six children was Leonor, the future wife of the king of Portugal and upon his death wife of Francis I of France. The second child Carlos was born in the palace public bathroom! Her jealousy grew to such a degree that Juana decided to attend a palace ball in order to keep a close watch on her husband. She was in a very advanced stage of her pregnancy. While dancing, her waters broke and was about to give birth in front of hundreds of people. She fled the room and took refuge in the first unlocked room that she found, the bathroom. Yes, Carlos the future King of Spain and Emperor of the Holy Roman Empire, was born on a bathroom floor!

What is there in the future of the ambitious and rapacious Philip and the headstrong, betrayed, and heartbroken Juana?

UNEXPECTED LIFE-CHANGING EVENTS


The years 1497, 1498, and 1550 catapulted Juana into a totally unexpected role, and the beginning of a disastrous downfall into desperation. At the same time it was the beginning of Juana's steadfast stand to preserve her rightful inheritance, as well as that of her children.

Within a span of a few years all of the possible heirs to the unified thrones of Castilla and Aragon died. First Juana's brother John and heir apparent died in 1497. The succession passed to Juana's sister Isabella, Queen of Portugal, but in 1498 she died while giving birth to a son, the Infante Miguel. Miguel then would be the inheritor of Castile, Aragon, as well as Portugal but he too died in the summer of 1500. The succession of Castilla and Aragon now fell to Juana who, upon the death of her mother, would become the rightful inheritor of the unified thrones.

The moment that it became clear that Juana would be the future queen of Spain, Philip began to think of himself as the rightful inheritor of Castile. The scheming and political intrigues began even though Juana discovered that she was pregnant with their third child. Isabel was born in 1501.

Soon after the birth it became necessary to travel to Spain so that Juana and Philip could receive fealty from the Cortes of Castilla, and in November of 1501 they began the trip to Spain. Philip insisted that the children remain behind, including the 6 months old Isabel.

At Philips insistence and against her wishes, they traveled through France on their way to Spain. Ostensibly to pay their respect to Louis XII, the enemy of Spain and Flanders!

When the travelers arrived in Val du Loire where the French King was to receive them, Juana was forced to go to a certain room of the castle while the husband and Besancon were ushered to the King's room. By all rights it should have been the Queen to deal with the King, Juana became suspicious. She got away from her 'captors' and went to the King's room where she found the three of them negotiating deals!

Juana realized that her husband was conspiring against her wishes, and became very angry. So angry that when she was asked by her husband to greet His Majesty in a manner required by a 'woman', Juana refused. She was as much royalty as the King and she was not going to act as a mere female. Yes, she caused quite a stir at the French Court.

After a few days of cat and mouse games, Juana discovered the real reason for the meetings between the three men. It was to betroth her infant son Charles to the French King's sickly infant daughter Claude. Incredibly, Juana's son was betrothed to an enemy of Spain! Immediately Juana packed and left for Spain, Philip had no choice but to follow.

After an arduous trek over the Pyrenees, in the middle of winter, they arrived in Spain. A few days later they were in Castilla where King Fernando, Juana's beloved father, welcomed them.

Soon after their arrival in Spain, Philip made certain demands of the King and Queen but he was turned down. Philip no longer wanted to be invested as the prince consort of Spain but demanded that the Royals amend their law of succession so that when Juana's parents died he would succeed as king of Castile and Aragon! Philip would have Juana's throne.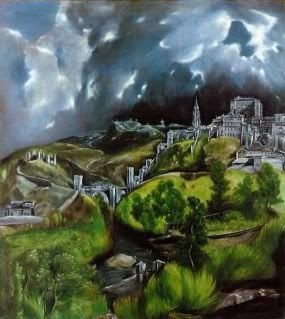 Toledo by El Greco

As luck would have it, that summer the water sickness spread through Toledo where they were staying. Besancon apparently got the sickness and died. Philip accused Juana's parents of having murdered his beloved adviser and vowed that he would have his revenge. Juana was pregnant with their fourth child. Philip abandoned the pregnant Juana in Spain and went back to France and then to Flanders.

Juana did not hear from her husband for two years. Their son Ferdinand was born in 1503 but Philip had no interest in meeting his son.Juana felt that for Philip she no longer existed.

Will Juana and Philip ever meet again?

To be continued……..

(Water sickness could have been the plague. It certainly was an epidemic of some disease that killed.)
Reader Comments
New Comment
Post Your Comments
Please sign in to post comments.
Not only will you be able to leave comments on this blog, but you'll also have the ability to upload and share your photos in our
Wunder Photos
section.
About Proserpina
| | |
| --- | --- |
| | "My life is a perfect graveyard of buried hopes." ― L.M. Montgomery, Anne of Green Gables Everyone stands alone at the heart of the world |
Tropical Blogs
Tropical Weather Stickers®
Local Weather
| | |
| --- | --- |
| | Overskyet |
Previous Entries for 2013