Christmas Forecast
By:

Bogon

, 10:15 PM GMT on December 24, 2011

+0
The solstice has come and gone, and Christmas is here. Here in the Southeast we're still waiting for winter.

You can see it in my yard. We have rose bushes that are still setting blooms. There is a Pelargonium out by the street that freezes back each winter. So far it's a little brown around the edges, but it's still going.

.SYNOPSIS...

It's all about zonal flow.

The jet stream has been sweeping storms directly east into the Atlantic. None of them hangs around long. They don't have a chance to deepen or tap into Arctic air. The Arctic Oscillation and the North Atlantic Oscillation remain resolutely positive.

.SHORT TERM /SUNDAY THROUGH SUNDAY NIGHT/...

First of all, there will be none of this.




Last year this was the scene at my mother's house. Here in the Dry Slot we had flurries that delighted the children of my in-laws visiting from Florida. Those folks are here again this year, but no snow for the kids this time around.

Yesterday's forecast gave a 30% chance of rain on Christmas day, but today's says mostly sunny. I'm not complaining.

There should be a lot of this.




.LONG TERM /MONDAY THROUGH FRIDAY/...

This week the outlook calls for highs in the fifties and lows in the thirties. There's a chance of rain Tuesday, otherwise sunny -- except at night, which is a major fraction of the day this time of year. Expect stars.

If you look at the latest graph for the NAO, there are hints that the sunny forecast may change next month.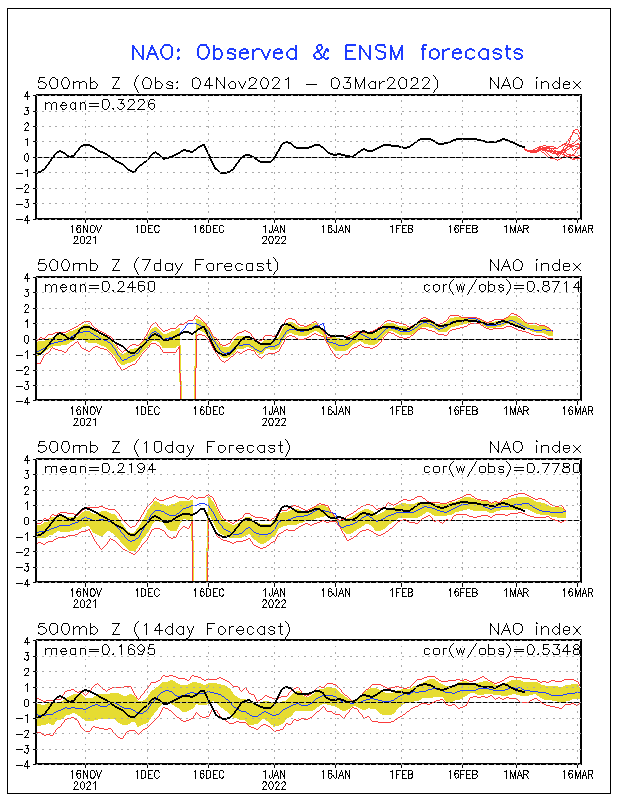 Maybe winter will arrive at last.

It's about time.

Previous Entry
Blue Christmas
By:

Bogon

, 07:18 PM GMT on December 14, 2011

+

2
Christmas is wonderful, but it doesn't always work for everybody. Life's shocks and knocks may intrude at any time. If you're feeling blue after Thanksgiving, chances are that hurly-burly Christmas will only make things worse. 'T is the season to be jolly, but it's also peak suicide season.



It's not a new problem, and it's not confined to a small group of people. It can happen to anybody. I wanted to post Dean Martin's version of Christmas Blues. The old black and white video shows that the problem has been around for a while. Sadly, embedding was disabled, which gave me the blues. It happened to me! Luckily I was saved by Holly Cole.



For Christmas to work its magic, you have to be engaged. You must be willing to commit to it. Some people are unable or unwilling to reach out, to make that commitment. When Christmas comes along, they miss the bus.



Christmas is ostensibly a religious holiday. The upside of that is that you can beat the blues by getting religion. You can seek help within a community of the faithful. Faith can work miracles.



The downside is that religion doesn't work for everybody. Not everybody espouses the same faith. Not everybody believes.

In his novel Contact Carl Sagan speaks of a "numinous feeling" that anyone can experience. It's a sense of wonder at life and creation. It has nothing to do with religion (though religions often co-opt it). It is something the human brain does. It's hard to explain in practical terms. It's not logical. There is no obvious way in which it enhances one's fitness, yet there must be some reason why evolution has equipped us to feel it. It must be good for something.

If the blues have got you down, go outside and take a long look at the night sky. Try to feel that ancient mysticism. Let it buoy you up. See where it takes you.



That blue condition is all in your head. The difference between sad and happy is nothing but a setting on an internal dial. Anything that can help you turn that dial will do the trick. Sometimes help comes from an unexpected source. Be open; be aware. Make room for serendipity.

If no one and nothing comes to aid you, look to your neighbor. Tell him or her what is at stake. Sometimes the best way to help yourself is to help someone else.



Previous Entry
| | |
| --- | --- |
| Updated: 07:37 PM GMT on December 14, 2011 | Permalink | A A A |
About Bogon
| | |
| --- | --- |
| | Unemployed software engineer. "What is that?", you may ask. It's someone who has time to blog about the weather... |
Tropical Blogs
Tropical Weather Stickers®
Local Weather
| | |
| --- | --- |
| | Overskyet |
Previous Entries for 2013